The Kiosk
An animated film by Anete Melece | 6 Min. 55 Sec.
For years now, the kiosk has been Olga's little home simply because her sweet tooth and monotonous life has made her bigger than the exit. To distract herself, she reads travel magazines and dreams of being far away. An absurd incident starts the beginning of her journey.
Die Kioskfrau Olga ist stets gut gelaunt. Sie kennt die Wünsche und Probleme der Leute, die täglich bei ihr vorbeischauen und bedient sie liebevoll. Wenn sie allein ist jedoch – und das ist sie oft – wünscht sie
sich weit weg; raus aus diesem monotonen Leben, in dem sie wortwörtlich feststeckt. Durch absurde Vorfälle wird sie schliesslich aus ihrer Stadt fortgespült und gelangt an den Ort ihrer Träume...
In co-production with: Schweizer Radio und Fernsehen
Redaktion: Catherine Ann Berger
und HSLU Design & Kunst, Master of Arts in Design, Nina Gellersen
© 2013 VIRAGE FILM

Distribution CH: XENIX Filmdistribution GmbH
World Sales & Distribution: interfilm Berlin
Trailer:

Watch the full film on Vimeo.
Kinostart CH: 29. August 2013 (Vorfilm von Halb so Wild)

Stills: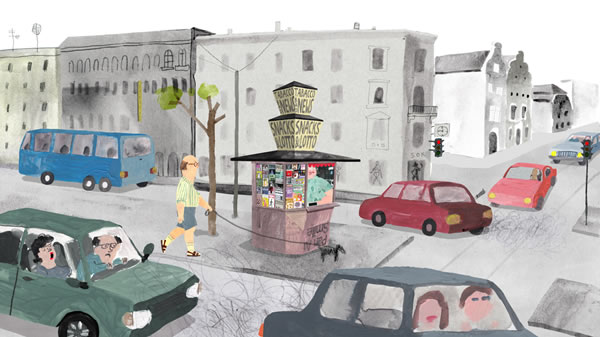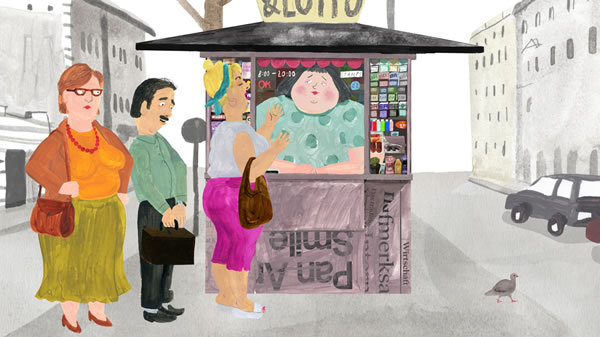 Weitere Vorstellungen:
KINO Schweiz (ab 29. August 2013) als Vorfilm von Halb so Wild:
Zürich: Kino Riff Raff, Bern: cinemovie, Basel: kult.kino camera,
Luzern: Kino Bourbaki, Spiez: Movieworld, St. Gallen: Kinok (ab 1. Sep.)
BEST OF FANTOCHE ON TOUR
Deutschschweiz:
Kino RiffRaff, Zürich, ab 19.9.
Kino Bourbaki, Luzern, ab 19.9.
Kino Freier Film, Aarau, 19.9.
Filmfoyer im Kino Loge, Winterthur, 20.9.
Neues Kino, Freienstein, 20. – 22.9.
Lichtspiel, Bern, 21.9.
Kino Xenix, Zürich, 22./25./29.9. und 2.10.
Cinématte, Bern, 23.9.
Stadtkino, Basel, 25.9.
Kino Sputnik, Liestal, 26.9.
Cinema Luna, Frauenfeld, ab 26.9.
Filmpodium, Biel, 29.9.
Cinema Odeon, Brugg, 29.9.
Lichtspiele, Olten, 26.10.

Romandie:
Zinéma, Lausanne, 18. – 24.9.
Cinélux, Genf, 18./21. und 22.9.
Cinéma ABC, La Chaux-de-Fonds, 18./20. und 21.9.
Le Cinoche, Moutier, 21. und 23.9.
Tessin:
Cinema Lux, Massagno, 28.9.
Cinema Otello, Ascona, ab 10.10.
Cinema Plaza, Mendrisio, ab 10.10.
Festival Castellinaria, Bellinzona, 17.11.
livre sur la place, NANCY- Buchmesse, 14, 15 September 2013
GEHEIMNISVOLLES LETTLAND
Europa-Kulturtage 2013, Deutsches Filmmuseum, Frankfurt,
Fr, 25. Oktober, 14 30 h, So, 27. Oktober um 15 00 h
Trickfilmabend im KOKI (Kommunales Kino), Freiburg DE
Freitag, 5. Juli 2013, ab 19:30 Uhr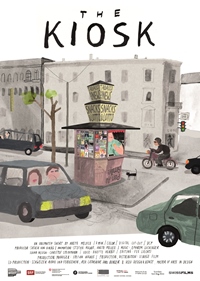 Online
The Kiosk online auf Vimeo...
Awards
Schweizer Filmpreis "Quartz" 2014
(Best Animation)
International Animated Film Festival KROK, Russia, 2014
Best film, Student Film Category
SICAF2014, Seoul International Animated Film Festival
Jury Special Prize
Student Films Category
Ismailia International Film Festival for Documentaries and Shorts 2014
Golden Tablet, Best Film Award Animation Film Competition
International Short Film Festival GREIPFRUTS, Daugavpils, Latvia
3rd place and Audience Award Official Competition
MONSTRA - Lisboa Animated Film Festival 2014
Audience Award Student Competition
Tricky Women Film Festival, Wien 2014
Sawczynski Audience Award

Solothurner Filmtage 2014 Trickfilmwettbewerb: 2. Platz
Animateka International Animated Film Festival, Ljubljana,
Special mention of the Elephant jury
China International Animation and Digital Arts Festival (CICDAF)
Special Jury Award in Student Work Category
Cadrage: 2013 | Kategorie: Succès
Preis / Auszeichnung: 2. Platz Kurzfilm
Central and Eastern European Film Festival "CinEast", Luxembourg 2013 Audience Award for the Best Short Animated Film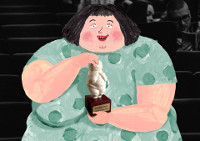 Riga International Short Film Festival 2ANNAS 2013
Best Latvian short & a special prize (from Travel Agency Relaks Ture)
FANTOCHE 2013
CH Publikumspreis (Audience Award) & Swiss Special Mention

Short Shorts Film Festival Mexico 2013 Special Mention
Bornshorts Film Festival, Denmark 2013 Special Mention
Festivals
St. Louis International Film Festival
5 - 15 November 2015 (Short FIlm Competition)
Women's Film Festival, Brattleboro, US, March 6 – 15, 2015

9th Tehran International Animation Festival, Iran, March 8 –12, 2015 (competition section)

Forum of Animated Films, Cairo, Egypt, February 19 – 25, 2015

Ciné Junior Film Festival, FR, January 28 – February 10 2015 (special screening)
Miami Short Film Festival, USA, 5 – 12 December 2014, (Official Selection)

Poitiers Film Festival, France, November 28 – December 7 2014 (special program for kids)

Leuven Shortfilm Festival, Belgium, November 28 – December 6 2014 (Kids Program)

Umeå European Film Festival, Sweden, 5 – 13 December 2014 (Latvian Animation program)

Aguilar de Campoo Short Film Festival, Spain, 4 – 8 December 2014 (Animation Competition)

Kinodiseea International Children's Film Festival 2014, Romania, 14 -19 November 2014

22nd Ozu Film Festival, Italy, 17 – 23 November 2014 (Ozu Kidz section)

Rocky Mountain Women's Film Festival, Colorado, USA, 7 -9 November 2014 (Official Selection)

Williamstown Film Festival, USA, 5 – 9 November 2014 (Official Selection)
Latin American International Film

Festival of Santiago de Chile, 5 - 8 November, (Mecal Chile 2014 program)

Big Cartoon Festival, Moscow, Russia, October 30 – November 10 2014 (Program of Winning films)

Santa Fe Independent Film Festival, USA, 15 – 19 October 2014 (Official Selection)

Chicago International Film Festival, USA, 9- 23 October 2014 (Short Film competition)

Festival Séquence court-métrage Toulouse, France
21 November - 7 December 2014
International Competition
International Film Festival For Children and Youth, Armenia
8-12 November 2014
Heart of Gold International Film Festival, Gympie, Queensland, Australia
9 - 12 October 2014
Official Selection, Australian Premiere

International Animated Film Festival KROK, Russia
29 September - 6 October 2014
competition

international animation market - festival 3d wire, Segovia (Madrid).
29 September - 5 October 2014
international selection
Helsinki International Film Festival 18 - 28 September 2014
Official Selection
Best Of Festival, Saint Cyr Sur Mer, France
11-14 September 2014

The 15th International Animation Festival in Japan - HIROSHIMA 2014
21 - 25 August 2014
Stars of Students

SHORTYNALE, Klosterneuburg
6 - 9 August 2014

Flickers: Rhode Island International Film Festival, USA
5 -10 August 2014
Offical Selection
Fünf Seen Film Festival, Herrsching DE, 23 July - 3 August 2014
Kurzfilmwettbewerb

Seoul International Cartoon & Animation Festival (SICAF2014)
22 - 27 July 2014
(OFFICIAL COMPETITION
in the Student Films Category)
Kugoma Festival, Mozambique
17 - 27 July 2014

espresso Open Air Kurzfilmfestival
Wien
17 July 2014
FEMINA - International Women's Film Festival, Rio de Janeiro, Brazil
July 14-20, 2014
Children's Program
Seoul International Cartoon & Animation Festival (SICAF2014)
July 22 - 27, 2014
Official Competition

Golden Nights
The Panorama at UNESCO, Paris
16 - 18 June 2014
Maui Film Festival, Hawaii
4 - 8 June 2014
(Official Selection)
Animafest Zagreb 2014 - Croatia World Festival of Animated Film
3 - 8 June 2014
(Children Competition)

Ismailia International Film Festival for Documentaries and Shorts, Egypt, 3 - 8 June 2014
(Official Competition)
Krakow Film Festival
25th May - 1st June 2014
Film Festivals Award Winners
Kyiv International Short Film Festival Kiev, Ukraine
21 - 25 May 2014
(Official Selection)
1st International Short Film Festival GREIPFRUTS, Daugavpils, Latvia, 17 May 2014
(Official Competition)
Tribeca Film Festival (NY)
6 - 27 April 2014
(Competition)
*** US PREMIERE ***
Ciné-Jeune, Saint-Quentin (France) 11th to 18th April 2014
(competition)
Holland Animation Film Festival
Utrecht, NL, 19 - 23 March 2014
(junior competition)
Next Comic-Festival Linz, AT
20.-23. March 2014
Mecal International Short Film Festival, Barcelona, ES
6 - 30 March 2014
(Animation Competition)
MONSTRA - Lisboa Animated Film Festival
13 - 23 March 2014
(students competition)
Tokyo Anime Award Festival
20 - 23 March 14
(compettion)
Tricky Women, Wien
12 - 16 March 14
(international competition)
European Youth Film Festival of Flanders, Antwerpen, NL
1 - 9 March 14
(competition)
PLAY - Lisbon International Kids Film Festival
February 1 - 9 of 2014
ANIMAC (Lleida, Spain)
20 - 23 February 14
(Futur Talent)
Solothurner Filmtage
23 - 30 January 14
(upcoming talents & projection spéciale "Amuse-bouche")
Premiers Plans Film Festival, Angers, France, 17 - 26 January 14
(Animated competition)
Piccolo Festival dell Animazione
30 December 2013
Les Nuits Magiques, International Animated Film Festival, Bègles, France, 4 - 15 December 13
(competition)
International Short Film Festival ZUBROFFKA, Bialystok, PL
4 - 8 December 2014
(EASTWARD WINDOW competition)
Animateka International Animated Film Festival, Ljubljana, Slovenia
2 - 8 December 2013
(Elephant International Children's Competition)

Animated Dreams 2013
Tallinn, Estonia, 27 November -
1 December 2013
(competition)
Schweizer Jungfilmfestival Luzern - UPCOMING FILM MAKERS
(competition)
CINANIMA - Festival Internacional de Cinema de Animação, Portugal
13 -17 November 2013
(international competition)
KLIK! Amsterdam Animation Festival, Holland
12 - 17 November 2013
(international Student Competition)

Bradford Animation Festival 2013
Bradford, UK, 12 - 17 November 13
(student competition)
CINANIMA - Festival Internacional de Cinema de Animação, Espinho | Portugal, 11 - 17 November 2013
(international competition)
Leeds International Film Festival, Leeds, UK
6 - 21 November 2013
(Guest Film Festival Focus: BAF!)
Stockholm International Film Festival, Sweden
6 -17 November 2013
(IFESTIVAL COMPETITION)
Expotoons 2013
Buenos Aires, Argentina
13-16 November 2013
(competition)
Flensburger Kurzfilmtage,
Flensburg, DE
6 - 10 November 2013
(tricky)
Muestra de cine sobre igualdad de género Mujer en Escena. Málaga ES
31 October - 21 November 2013
(competition)
ReAnimania International Animation Film Festival, Yerevan, Armenia
26 October - 6 November 2013
(competition)
DOK Leipzig, Germany
28 October - 3 November 2013
(Anima for Kids)
Kaohsiung Film Festival, Taiwan
18 October - 3 November 2013
(Int. Competition 2013)
Riga International Short Film Festival 2ANNAS, Riga LT
21 - 27 October, 2013
(baltic competition)
Central and Eastern European Film Festival "CinEast", Luxembourg
9 - 27 October, 2013
(Short animation films marathon - competitive)
VILNIUS FILM SHORTS
International Short Film Festival, Lithunia
10-13 October 2013
(international competition)
ANIMA2013 - VII Córdoba, Argentina, International Animation Festival
10 - 12 October 2013
(World Panorama)
Sedicicorto International Film Festival, Forli, Italy
5 - 12 October 2013
(competition ANI&LAB)
Animatou, Geneva, CH
5 - 13 October 2013
(Swiss Competition)

8th ANIMEST
international animation film festival, Bucharest, Romania
4 - 13 October 2013
(international short competition)
Reggio Film Festival, Reggio Emilia, Italy 2 - 7 October 2013
(Open Category)

China International Animation and Digital Arts Festival (CICDAF), Changzhou, China
September 28 to October 1, 2013
(official selection)
Festival du film français d'helvétie, Biel, CH
18-22 September 2013
(hors compétition)

Encounters Film Festival, UK
17 - 22 September 2013
(Competition)

Bornshorts Film Festival, Denmark
12 - 14 September 2013
(Animation Nominee)
Milano Film Festival, Italy
5 - 15 September 2013
(milano film festivalino)
Fantoche - int. Festival für Animationsfilm, Baden, CH
3 - 8 September 2013
(Swiss Competition)
* Festival Premiere Switzerland *
Short Shorts Film Festival Mexico
Festival Internacional de Cortometrajes de México -
5 - 11 September 2013
(Official Selection)
ANIMANIMA, Cacak, Serbia
5 - 8 September 2013
(Panorama)

Odense International Film Festival, Denmark
26 - 31 August 13
(Main Competition)
Festival International du Film Nancy Lorraine, France
31 August - 7 September 2013
(Official Selection)
Anibar International Animation Festival, Peja Kosovo
09 to 14 August 2013
(International Competition)
Anima Mundi, Brazil
Rio de Janeiro: 2 to 11 August 13
São Paulo: 14 to 18 August 13
(Competition)

Festival Internacional de Cine Bajo la Luna, Huelva, Spain
15 August 13
(Official Selection)
Lviv international Filmfestival,
Lviv Ukraine, 25-28 July 2013
(Official Selection)

Lago Film Fest , Revine Lago,Italy
International Festival of Short Films, Documentaries and Screenplays
19 - 27 July 2013
(Official Selection)
5th SiciliAmbiente Documentary Film Festival, San Vito lo Capo
9 - 14 July 2013
(short/animation section)
Curtas Vila do Conde IFF, Portugal
6 - 14 July 13
(Curtinhas Competition)

Edinburgh International Filmfestival
22 June 13
(Official Selection)

IndieLisboa, Lisboa Portugal
18-28 April 13
(International Competition)

20. Int. Trickfilmfestival Stuttgart, DE
23. April 2013
(Young Animation)
* International Premiere *